I started this company over 10 years ago. My 'bread and butter' was customizing MySpace pages using flash. This was before iPhones, before Facebook, and before digital media marketing was taught as a 4-year college degree. I gained my knowledge by trial and error and engaged in interesting discussions with others who were in similar shoes to grow my understanding. I slid into online marketing, the way a baseball player slides into home.
As the online marketing industry started to take shape, traditional marketers joined in on the conversation.
I still remember a conversation with a traditionally educated marketer who was trying to get a marketing job in digital. He was trying to validate himself by talking endlessly about SWOT, CPL's, CAC and the MRR's of the project. I was lost! I could not make heads or tails out of it. What was he talking about?
At one point, through deduction, I thought I understood. I interrupted and asked, "So, your primary goal is to get more leads at a lower cost?" Lo and behold, he was, and as he continued bombarding me with more marketing terminology I thought to myself, "Why in the world didn't you just say that!" Oh, the time we could have saved.
Traditional marketing terminology has been widely adopted in the digital world since then (even by myself). We even have some unique digital marketing terms of our own.
Marketers like to use fancy terminology; it makes us seem knowledgeable, fancy even. But the reality is, that the business owner sitting across from you doesn't care. In fact, you could be alienating the very person you want to build a relationship with.
And yet... I've caught myself doing the very same thing.
For the last couple of months, I've been talking about the buyer's journey regarding awareness, consideration, and decision. I've even been coaching interns regarding BOFU, MOFU and TOFU, and those acronyms irk me to no extent. Translation for those who don't know: Bottom Of The Funnel, Middle Of The Funnel and Top Of The Funnel.
It wasn't until I saw Google's Primer card of the buyer's funnel broken down as "See, Think, Do" that I caught myself.
The card referred to a photography app and its strategy to target users along the buyer journey.
SEE: was how Google described how the app would appeal to people who took photos
THINK: was how Google described how people would be thinking about how they could use the app
DO: to explain how the app made it easy to do things, like order and buy photos.
The simplicity was refreshing.
When explaining what marketing channels best serve the potential buyer as they travel through the purchase process, this terminology is both simple and clear. Easy to grasp for almost everybody. As a result, explaining to clients the effectiveness of different channels across the buyer's journey can be explained in simple plain English.
Social Media Marketing, Paid Display Ads, and Youtube allow your brand to be seen. Social Media Marketing, Paid Display Ads, PPC Search and Shopping make your potential customers think about your brand and Social Media Marketing, Paid Display Ads, PPC Search & Shopping will drive your prospects to take action (DO). Another useful channel that drives potential customers to take action and do is email marketing. Once the sale happens, Social Media Marketing and Email Marketing allow you to care for those customers and turn them into brand ambassadors.
No BOFU, MOFU, TOFU, no awareness, consideration and decision phases, just simple See, Think, Do and Care.
Followed by a simple question like, "where in the buyer's journey does your business need the most help," it's possible to speak the client's language without overwhelming them with Marketing terminology.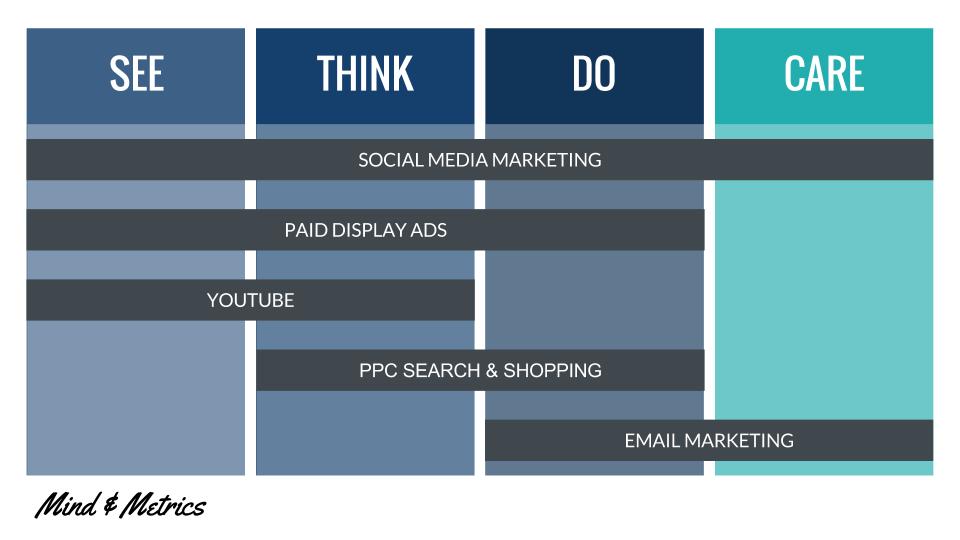 Whether communicating with staff or clients, it is vital to be understood. What may be clear to me, might not be clear to my clients. Regardless of what industry they are in. Clear language should feature in all publications, from direct mail and marketing brochures to website copy, advertising, and even email correspondence. It's easy to fall back on our day to day jargon with co-workers, but our clients need a very different language.
Building strong customer relationships doesn't work if you hide behind words. And if you have a meeting with me, and I rattle off some marketing terminology you don't understand, call me on it! You'll be doing us both a favor.